A GREAT NIGHT OF SEX CAN START RIGHT NOW.
IMAGINE BEING SEDUCED
Imagine… knowing your partner is planning a seduction, just for you.
Imagine… the aching anticipation as you wait for your sexy surprise.
Imagine… being teased with with clues + hints, all week long.
Imagine… taking your sex life from "whatever" to white hot.
IT'S ALL PART OF THE 101 NIGHTS EXPERIENCE.
COME AND PLAY.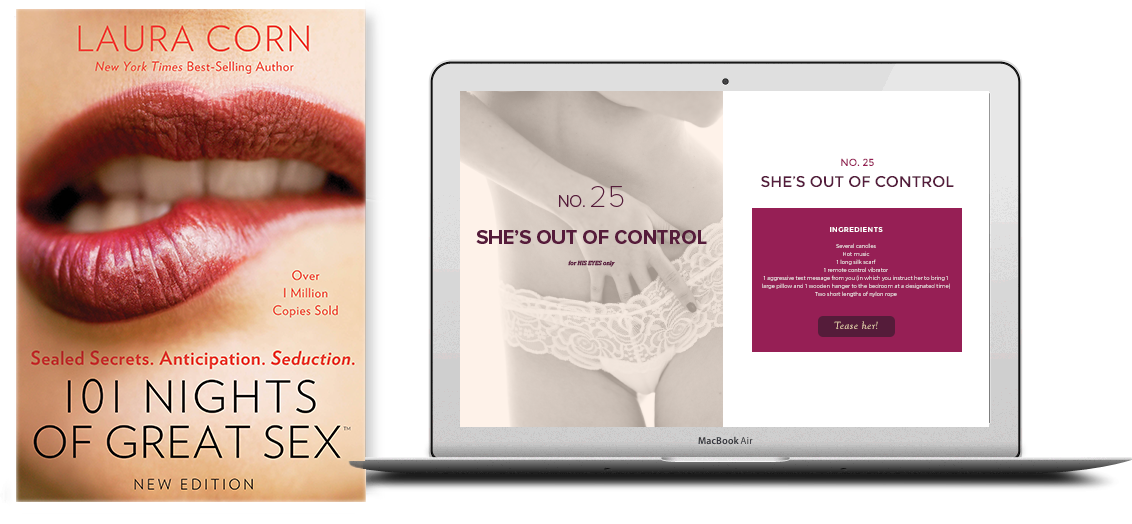 101 Nights of Great Sex
Sealed Secrets. Anticipation. Seduction.
101 NIGHTS OF GREAT SEX E-BOOK
Take a little seduction with you.
Sealed Secrets. Anticipation. Seduction.
Xperts' Corner
Seduction Starts Here
Sexy Secrets. Great Ideas.
Seduction Blog
Anticipation + Creativity = Great Sex
LAURA CORN
Laura Corn is the author of nine bestselling titles, with over four million books sold. Her fans include Britney Spears, Gwyneth Paltrow, and Heather Locklear, who raved about her on Late Night with David Letterman. The girls from The View have even given her book as a gift to their celebrity guests!
New York Times
BEST SELLING AUTHOR
Let's Go somewhere